This summarizes a selection of applications for the Experimental Radio Service received by the FCC during February 8-12: mobile satellite terminals, white space, smart grid, satellite infrastructure, submarine communications.
Xtreme Hi-Tech files an application (with supporting exhibits) for experimental license to test a new type of mobile satellite antenna while it is mounted on an SUV. Operation it to be on 14.0-14.5 GHz in suburban Washington DC. Photos accompanying the filing show a Commtact mobile satellite terminal, which Xtreme Hi-Tech sells.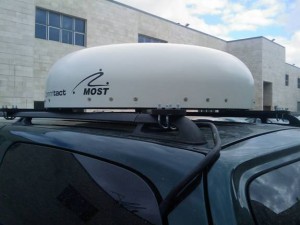 Plumas Sierra Rural Electric Cooperative (PSREC) filed an application (with supporting exhibits) for experimental license to conduct testing of fixed devices in television broadcast white space. The exact bands of operation are inconsistent in the application; the form states 174-216 MHz and 470-698 MHz. Operation will be in Plumas County, California.
PSREC says it is working with Spectrum Bridge on applications using white space. These include smart grid and possibly providing rural broadband access. In these tests, Spectrum Bridge manufactures the equipment provides a white-space database. The base stations will connect to the internet and provide 3 Mbps connections to fixed client devices that serve electrical substations and residences.
GUSA Licensee LLC filed an application (with supporting exhibits) for experimental license to conducts tests with satellite system earth stations operating on 5091-6250 MHz, and 6875-7055 MHz.
GUSA Licensee LLC is a subsidiary of Globalstar. Globalstar owns and operates the Globalstar low-Earth-orbiting mobile satellite constellation. GUSA holds the Fixed-Satellite Earth Station licenses for the three commercial U.S. gateways that operate with the satellites.
Globalstar started commercial service in the U.S. in January 2000. It is now building a second-generation system. The second-generation space segment will include construction of 48 new low-earth orbit satellites. The first second-generation launch is scheduled for the third quarter of 2010. Associated with the new space segment will be a second-generation ground segment including a new interface (core network) to be installed at gateway ground stations, and new satellite interface chips for the user terminals. The new experimental earth stations will be used to perform over-the-air tests in the development of the second generation system and provide a means to develop and test new applications and services once the second generation system becomes operational.
Lockheed Martin files an application (with supporting exhibits) for special temporary authority to test new submarine antennas and associated on-board equipment for the US NAVY. Testing will be at Syracuse, New York on various frequencies from 1.5 MHz to 2025 MHz.