The FCC finalized its white-space rules today, acting on petitions for reconsideration of its earlier decisions. It issued an 88-page  Second Memorandum Opinion and Order that explains its decisions and includes the final white-space rules. A much-shorter press release was also issued.
At least one FCC observer has noted an uncharacteristic level of hype in today's announcements. The FCC calls it "super Wi-Fi," and adds the "potential uses of this spectrum are limited only by the imagination."
Over two years ago, Google called it "Wi-Fi on Steroids." It was later picked up by the popular press. Not all agree; it's "Wi-Fi on Crutches" according to one who dares to consider the realities of physics and economics.
I'll call it "Wi-Fi on Caffeine," at least with respect to better range and coverage — if not data rates — compared with current Wi-Fi equipment. This is partly due to operation in the UHF-TV band instead of the 2.4 GHz band. In major markets and their suburbs, there will be few or no channels available for white space use. In rural areas and other less dense areas, the technology will be a good fit with Wireless Internet Service Providers (WISPs) and other longer-distance applications.
Cellular operators would like some of the white space on a licensed basis for backhaul in rural areas. They didn't get it today, but the FCC is actively considering it and we may hear more on that by the end of the year.  No way are all these vacant channels going to be occupied by internet services in the most rural areas, so the proposal of the operators makes sense.
In IEEE 802, Working Groups 802.22 and 802.11 are working on standards that can be used by equipment in these applications; 802.22 may be the one with longer range. Working Group 802.19 is trying to facilitate coexistence between the two. Now, there are asymetric interference effects, which is causing friction between the two groups beyond the normal competition. (802.22 takes the harder interference hit.)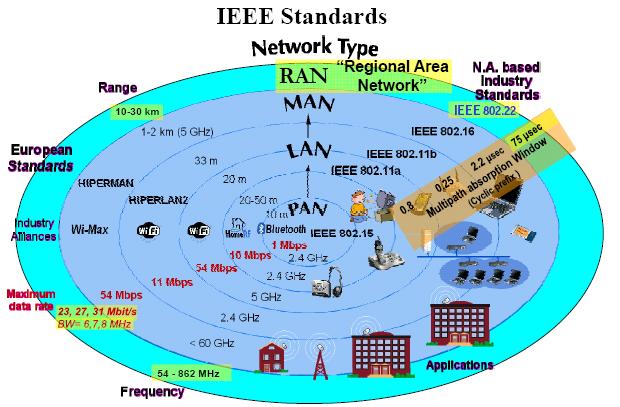 There will be other standards and equipment as well. The white space concept is international, but unique to each area of the world.
Equipment is not easy; it's challenging to develop sufficiently-broadband power amplifiers and antennas, and to meet the emission mask in a cost-effective manner.
Another challenge is developing a business plan when 120 MHz of TV spectrum could be taken away under the National Broadband Plan.
Paragraph 3 of today's Memorandum briefly outlines what the Commission considers to be the main points of today's action. I reproduce the text of that outline below. Please refer to the complete document for more information, and consult with a communications attorney before acting on any of this information.
By today's decision, the FCC is taking the following actions:
"Protection Criteria for Incumbent Services
Modifying the protection criteria for low power auxiliary stations such as wireless microphones to reduce the required separation between such devices and unlicensed personal/portable devices operating in Mode II.
Modifying the definition of the receive sites entitled to protection outside of a television station's service area to include all multi-channel video programming distributors as defined by our rules.
Reserving two vacant UHF channels for wireless microphones and other low power auxiliary service devices in all areas of the country.
Allowing operators of event and production/show venues that use large numbers of wireless microphones on an unlicensed basis that cannot be accommodated in the two reserved channels and any others available at that location to register the sites of those venues on TV bands databases to receive the same geographic spacing protections afforded licensed wireless microphones.
Restricting fixed TV bands devices from operating on locations where the ground level is more than 76 meters above the average terrain level in the area.
TV Bands Devices
Eliminating the requirement that TV bands devices that incorporate geo-location and database access must also listen (sense) to detect the signals of TV stations and low power auxiliary service stations (wireless microphones). As part of that change we are also revising and amending the rules in several aspects to reflect use of that method as the only means for determining channel availability. While we are eliminating the sensing requirement for TVBDs, we are encouraging continued development of this capability because we believe it holds promise to further improvements in spectrum efficiency in the TV spectrum in the future and will be a vital tool for providing opportunistic access to other spectrum bands.
Adopting power spectral density limits for unlicensed TV bands devices.
Modifying the rules governing measurement of adjacent channel emissions.
Restricting fixed TV bands devices from operating at locations where the height above average terrain of the ground level is greater than 76 meters.
TV Bands Database
Requiring that communications between TV bands devices and TV bands databases, and between multiple databases, are secure.
Requiring that all information that is required by the Commission's rules to be in the TV bands databases be publicly available.
Use of TV Channels
Amending the rules to protect Canadian and Mexican stations in the border areas by including those stations in the TV bands database as protected services.
Changing the protection zone for the radio astronomy facility near Socorro, New Mexico to a rectangular area.
Declining to grant a request by FiberTower to set aside TV channels for fixed licensed backhaul use."