NTIA has made several proposals in the FCC's 3.5 GHz proceeding that would greatly increase areas of the country in which the proposed Citizens Broadband Radio Service can be provided.
The huge coastal exclusion zones for 3550-3650 MHz, intended to protect shipborne radar, have been recalculated using more realistic assumptions and are now much smaller (but still near the coasts). Exclusion zones around ground-based radar have been similarly recalculated and made smaller.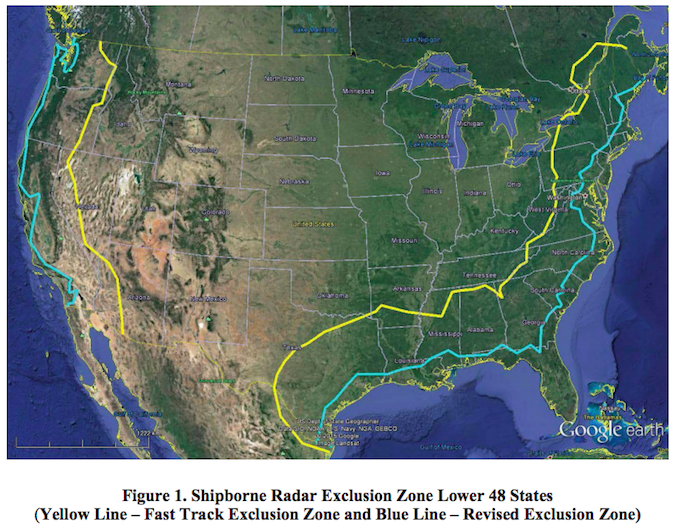 Most notably, NTIA is agreeable to these exclusion zones being encroached upon if sensing technology is used to detect and protect federal users. The exclusion zones then become protection zones.
To reduce the size of the exclusion zones NTIA made a more real-world analysis, using Monte Carlo simulation techniques instead of the assuming the worst case. Small cells were assumed instead of macrocells. A more accurate propagation model was used.
Sensing details are to be worked out by NTIA, the FCC, and the Department of Defense. NTIA seems open to relatively high power levels as long as federal facilities are protected. Users not near the exclusion zones would not have to use sensing.
This is good news for 3.5 GHz proponents. For the first time in this proceeding, there's the prospect of coast-to-coast (but not ubiquitous) operation. If the FCC adopts a sensing protocol, it will bring the service closer to the 2012 vision of PCAST, in which this proceeding is rooted.