LTE in unlicensed and shared spectrum remains at an "early stage" worldwide with interest "high," according to a report published by the Global Mobile Suppliers Association (GSA). Technologies discussed in the report include LAA, eLAA (LAA with uplink support), LTE-U, LWA (LTE Wireless-LAN Aggregation), LWIP (LTE WAN Integration with IPSec tunnel), and US-oriented CBRS. These are described in the report.
GSA identifies these key data points:
32 operators investing in LAA across 21 countries. Six of these have announced LAA network launches in five countries. 26 operators are trialling or deploying the technology in 17 countries. ("Deploying" is analogous to construction. "Launching" is starting commercial service.)
11 operators have announced investments in LTE-U networks. Three LTE-U networks deployed/launched in three countries; eight others are investing in the technology in the form of trials or pilots in seven countries. The report notes a shift in focus away from LTE-U toward LAA by T-Mobile in the US and Vodacom in South Africa.
One LWA network launched in Taiwan, with two other operators investing in the technology through trials in South Korea and Taiwan.
One eLAA trial in South Korea.
11 companies investing in CBRS trials in the US, one announcement of the commercial launch of a private LTE network using CBRS.
20 commercially available modem-containing chipsets supporting unlicensed access.
120 devices supporting LTE in unlicensed spectrum technology, or CBRS (including regional variants of devices), from 29 vendors.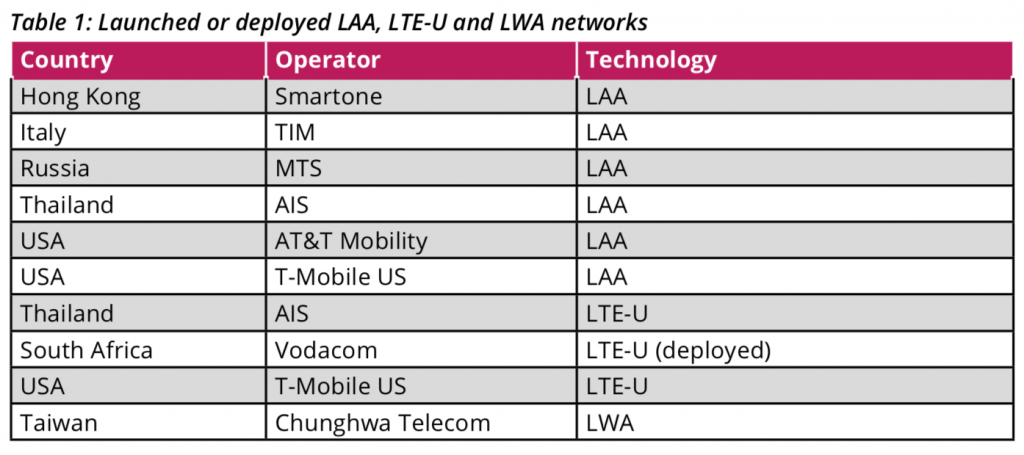 The report can be downloaded here (registration required).