On October 21 the ITU announced it had deemed two mobile broadband technologies as IMT-Advanced. They're LTE-Advanced and WirelessMAN-Advanced (WiMAX Release 2 based on IEEE 802.16m). At the same time the ITU called these "true 4G technologies," leading some in the trade press to say that marketing of some existing services as 4G is misleading.
No entity is the arbiter of the designations 2G, 3G, or 4G. Even the ITU generally uses these terms parenthetically. It recognizes the lack of consensus on their meaning, and does not say others are wrong. The ITU calls the IMT-Advanced technologies "true 4G," and they are insofar as ITU has a view of 4G and the two technologies are truly consistent with that view.
In some of these articles, Sprint and Clearwire, to name two examples, catch flack for calling their current WiMAX offering 4G. I'd call it 3.5G, but I can't say they're wrong. An ABI Research analyst agrees with Sprint and Clearwire; his view is that everything TDMA is 2G, everything CDMA is 3G, and everything OFDMA is 4G, regardless of data rate. It's a reasonable argument based on backward compatibility, but I'm not ready to agree. If that or something else ends up being the industry consensus, I won't object.
Below is a comparison found on the ITU website. It's generally consistent with my view.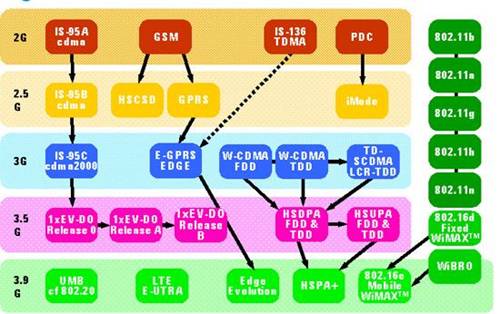 Don't like these classifications? Make your own. Within reason.
________
UPDATED 11/04/2010
ABI analyst link updated with more current post.