The FCC finalized its white-space rules today, acting on petitions for reconsideration of its earlier decisions. It issued an 88-page  Second Memorandum Opinion and Order that explains its decisions and includes the final white-space rules. A much-shorter press release was also issued.
At least one FCC observer has noted an uncharacteristic level of hype in today's announcements. The FCC calls it "super Wi-Fi," and adds the "potential uses of this spectrum are limited only by the imagination."
Over two years ago, Google called it "Wi-Fi on Steroids." It was later picked up by the popular press. Not all agree; it's "Wi-Fi on Crutches" according to one who dares to consider the realities of physics and economics.
I'll call it "Wi-Fi on Caffeine," at least with respect to better range and coverage — if not data rates — compared with current Wi-Fi equipment. This is partly due to operation in the UHF-TV band instead of the 2.4 GHz band. In major markets and their suburbs, there will be few or no channels available for white space use. In rural areas and other less dense areas, the technology will be a good fit with Wireless Internet Service Providers (WISPs) and other longer-distance applications.
Cellular operators would like some of the white space on a licensed basis for backhaul in rural areas. They didn't get it today, but the FCC is actively considering it and we may hear more on that by the end of the year.  No way are all these vacant channels going to be occupied by internet services in the most rural areas, so the proposal of the operators makes sense.
In IEEE 802, Working Groups 802.22 and 802.11 are working on standards that can be used by equipment in these applications; 802.22 may be the one with longer range. Working Group 802.19 is trying to facilitate coexistence between the two. Now, there are asymetric interference effects, which is causing friction between the two groups beyond the normal competition. (802.22 takes the harder interference hit.)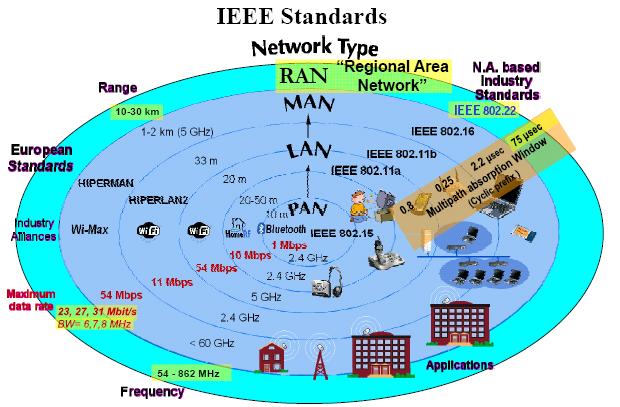 There will be other standards and equipment as well. The white space concept is international, but unique to each area of the world.
Equipment is not easy; it's challenging to develop sufficiently-broadband power amplifiers and antennas, and to meet the emission mask in a cost-effective manner.
Another challenge is developing a business plan when 120 MHz of TV spectrum could be taken away under the National Broadband Plan.